Flat and Low Slope Roofing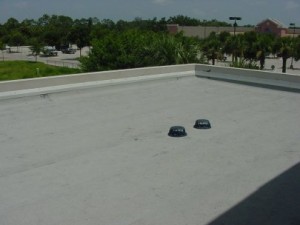 Flat and Low Slope roofing is limited to any roof slope under 2″ in 12″. Low slope roofs can be designed many different ways to accommodate many different architectural designs. Slope can be added with tapered insulation to any roof that is "flat" without re-building the structure. This prohibits standing water, which is desired in flat and low slope roofing applications.
Adding Slope to a Flat Roof
When a flat roof is totally flat and is susceptible to holding water, then it needs to be retrofitted when it is installed or replaced. Most of the specifications state that a flat roof must have positive drainage. 1/4″ per foot minimum slope is the code for new construction. When built in a new construction scenario, the roof deck can have the slope built in. In a reroof scenario, that option is usually not an option. Also, the code reads that a reroof does not have to meet the 1/4″ per foot requirements, so long as it has positive drainage.
What is positive drainage? Positive drainage means there is not any ponding water left after a rain. Ponding water is defined as water that is still holding after a 48 hour period.
Once the insulation is screwed into place, the base sheet is applied to the top layer of insulation. The base sheet can be self-ahered directly, or self-adhered and screwed. The base sheet is the first ply in the system. Then the mid-ply and granulated cap sheet is installed to created the 3-ply system.
Flat Roofing System
Besides roof coatings on existing, qualified roof systems, we primarily use self-adhering modified bitumen rolled roofing systems.
We have switched from traditional hot mopping of our flat roofing systems, to a self-adhered flat roofing system. When the term "self-adhered" is used, people think of a "peel and stick" system. Although, there is some truth to that, there is a lot more to the self-adhered system than just peeling and sticking. The right way to think of self-adhered systems is more of a term like "cold process". Hot mopping modified bitumen granulated cap sheet is very similar to the self-adhered system in the end, but the process and application is different. Torch applied roll roofing, is probably the closest thing to the self-adhered roofing system, but of course, without the torch.
Almost exclusively, we use Certainteed Flintlastic SA. A Self-Adhering SBS Modified Bitumen Roof System for Low Slope Roofs. We primarily use the 3-ply system, which is comprised of a base sheet, a mid-ply, and then the granulated cap sheet. A 3-ply system is a 15 to 20 year system. Compared to a 2-ply system, which is a 10-12 year system.
We do not use a torch to install our flat roofing systems. We are 100% self-adhered and cold process.