Roof Coating – A Different Approach
Often times we will get the reaction of surprise when we quote a roof coating job. This is a result of the popular mind set of "Don't you just roll the roof coating on? I can do that for a lot less than this!". Well, yes! After we clean it, clean it, clean it, repair areas that are suspect. Then apply a bed coat, sometimes with fabric. Then come back and clean it again, to apply another coat. Then possibly come back for a 3rd trip to coat again. Each time, of course, with some prep work. We also use premium products. Which means that we will do our very best to follow manufacturer recommendations.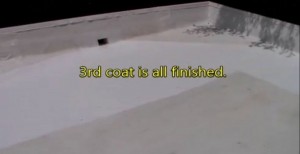 The main roof coating system that we do is a system where we embed polyester fabric on all the seams of the existing roof covering into the coating. This is called a roof restoration. It is called this because we are taking an existing roof (preferably in good condition) and restoring it with a coating and also reinforcing the seams of the existing roof covering. The photo to the left is of a roof we "repaired". You can see the roof coating is only in specific areas. There is a reason behind it.
Roof Coatings Need to Be Looked After
The following video highlights a roof coating "repair" we did on a roof that we had previously coated one year earlier. We were expecting that the coating we applied would take on some ponding water. We followed the manufacturer recommendations regarding the roof coating restoration system, but somehow we still fell a little short. We had provided some periodic maintenance to some other coating jobs we had done before this one and found the areas where there was ponding water had deteriorated. Since we were using a premium system, we really didn't like what we saw. So, of course, we fixed it. We applied the same process that you will see in the video to the places the roof coating really needed it. So when we then went to this job to clean off the leaves and debris and check that the scuppers were clear, we discovered that the same thing was happening to this roof coating as well. So I contacted the owner and explained that I wanted to make sure and repair the roof coating now, before we had any breakdown in the material similar to what we experienced in the other jobs. We did not charge any extra for this, as it was not the owners fault. We just needed to chalk this one up to experience. That is what you get when you hire Sunshine Roofing of SW FL, a little more.